Checklist Tool To Learn The Strengths And Weakness Of Your Strategy
Business Strategy Checklist Tool below
If you're struggling to learn the strengths and weakness of your strategy, then pay very close attention to what I'm about to share with you about Business Strategy Checklist Tool, a new strategy checklist tool that assists business strategists to learn the strengths and weakness of their strategy.
The big idea here is that this strategy checklist tool gives you an advantage over your competitors by identifying weaknesses in your strategy that could prevent you reaching your goals.
You should check out Business Strategy Checklist because the tool looks at strategy from 9 perspectives.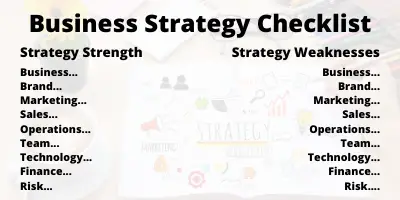 Each strategy attribute can be rated from 0 to 5.
A relative strengths list with score can be exported.
Determine where you stand.
Here's why Business Strategy Checklist Tool will help you...
Speed up how quickly a business strategy can be analysed.
See the relative strengths and weaknesses in 9 strategy sub sections.
Strategy results can be compared with the business model and business capabilities.
Identify where new skills could be gained for organisation capability coherence with the strategy.
Here are the steps you can take to put this strategy checklist tool to work fast:
Look at the strategy major categories and sub section attributes.
For each line select 0, 1, 2, 3, 4, 5. Zero to full strength strategy.
Click the Get Results button.
Text area shows the business strengths in 9 categories.
Copy and Paste out your results.
Address the weaknesses for more strategy success.
Surprisingly enough, this incredible strategy checklist tool costs nothing to use.
You can access this strategy checklist tool here.
Business Strategy Checklist Tool
Copy and Paste your Strategy Strengths and Strategy Weaknesses lists.
Allow other members of the organisation to perform this assessment to compare results.
Create projects to address your weaknesses.